We witnessed one of the greatest comebacks in college football history and don't let anyone tell you otherwise. After not leading for a single second of the game, Baylor beat the Horned Frogs from Fort Worth and sent a clear message to Gary Patterson and the rest of the nation. Don't poke the bear.
When you remembered Gary Patterson's Comments Last Year
But ... TCU jumped out to a 14-0 lead.
Baylor answers with a Bryce Petty 66 yard bomb to Antwan Goodley
Chris Callahan kicks his first field goal of the day after struggling all year and you turn away, but then he makes it.
Catalon scampers in for a 9 yard touchdown against us.
Petty connects with Corey Coleman for 29 yards and the score.
Petty ties it up at 24 with a beautiful pass to KD Cannon who stiff arms his way in for the touchdown just before half.
But then TCU returns the kick.
Do you need some air?
But that bad snap over the punters head had you like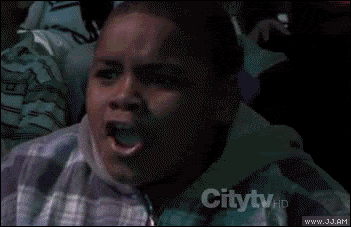 Jay Lee catches a pass at the end of the 3rd quarter to pull within a touchdown. 44-37 and Mclane Stadium is all
Then TCU scores again and you're starting to worry.
Bryce Petty throws a pick six and Baylor is suddenly down 21 points with 11:38 remaining.
But wait, who is this Shock Linwood character?
Is the game over?
Devin Chafin punches it in. 10:39 on the clock.
The defense has made adjustments and ... holds!!!!!
Bryce Petty and the Baylor offense shift into hyperdrive.
ANTWAN GOODLEY HAULS IT IN. Baylor within 7, 6:39 to play.
The defense makes another STOP. Is THIS HAPPENING?
COREY FREAKING COLEMAN. TIE GAME. 4:42.
THE DEFENSE OFFICIALLY GOES GANG GREEN AND WE GET THE BALL BACK.
The offense drives down the field, gets in chip-shot field goal range and Gary Patterson calls timeout to get in Chris Callahan's head.
But Chris Callahan is just like.
While all of Baylor Nation is ...
AND BOOM. GAME OVER FROGGIES. GO BACK HOME TO FORT WORTH. Gary Patterson after the game amidst the swarming Baylor Fans and players.
NOW POST YOUR REACTIONS IN THE COMMENTS!
SIC EVERYTHING!