First and foremost, there will be a NSD Open Thread going up tomorrow morning at 7 AM here on ODB for all of the National Signing Day festivities.  It will go into the NSD StoryStream on the front page where all of the pertinent updates on the 2014 class will be located.   If you're more interested in the entire world of CFB and not just Baylor, SB Nation's CFB page will basically be dedicated entirely to NSD tomorrow, as well.  Some of the biggest recruits in the country are still "out there," so to speak, so there could still be plenty of drama.
As far as Baylor goes, our class is mostly set and has been for a while.  I wrote up an exhaustive primer on it yesterday (Monday) that is still accurate as of this moment.  In that primer is a link to my recruiting matrix giving all of the pertinent info on our 2014 class, the best yet in the Art Briles era.  We don't expect anything unexpected to happen (then it wouldn't be unexpected...), but it might.  We'll have info here, if it does.
The official coverage will, of course, come from BaylorBears.com, where they will be doing the iconic Fax Machine Cam for the first time ever.  It sounds hokey and totally is, but it's also something that a lot of schools have done for quite a long time.  Baylor has a lot to celebrate in this recruiting class and is finally acting like it, and I, for one, appreciate that.  The official hashtag for Baylor's NSD info is "#SignBU" as you can see below: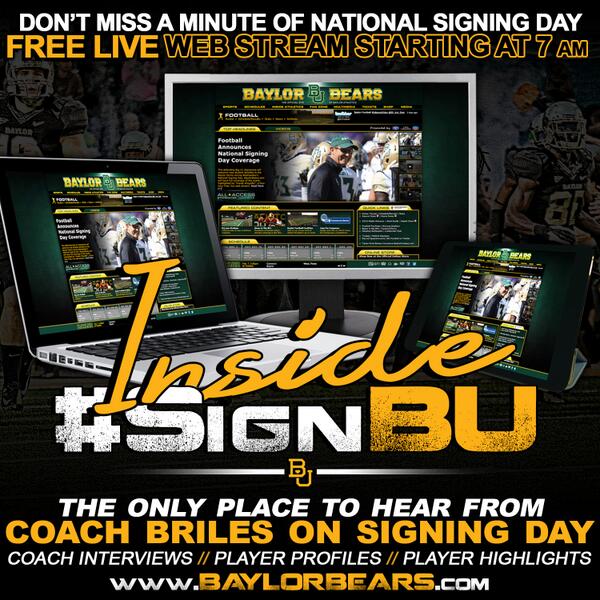 For more links to National Signing Day coverage from the subscription sites:
You can also consult our Official Twitter Guide to Baylor Athletics for links to the official accounts, recruiting analysts, and even some recruits.  I will work on that tomorrow to get it as up to date as humanly possible.
Of course, you should also follow ODB on Twitter if you don't already for the absolute latest in recruiting updates.  I'll be RT'ing and tweeting updates throughout the day tomorrow about any and all of our new Baylor Bears.  It should be a wonderful day to a Bear, so let's enjoy it together!