Happy Friday, everyone! Whether or not you participate in the Black Friday insanity, I hope that this day after Thanksgiving finds you comfortably full and ready for the continuation of a fantastic weekend of college football.
As has become their weekly custom, the fine folks over at baylorbears.com have put together a one-stop shop for all of your game day needs. As you may or may not be aware, our game against Texas Tech will air on ABC/ESPN on Saturday at 2:30 p.m. CST. I always love it when we play on ABC/ESPN because they create sweet-looking coverage maps for us to post, like this one: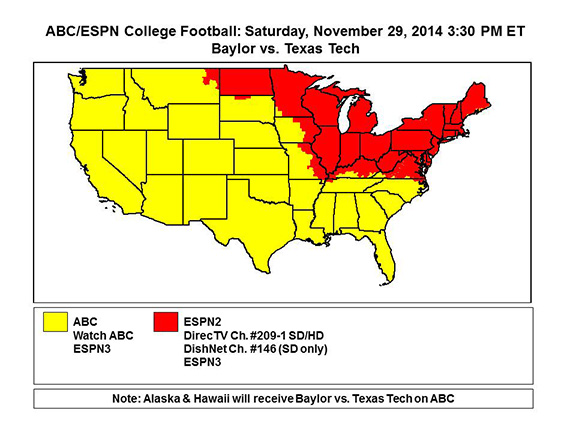 So, basically, if you live north of the Mason-Dixon Line and east of the Mississippi (plus Minnesota and North Daokat), you'll get the game on ESPN. Everyone to the south and west will get Baylor vs. Texas Tech on ABC. Check your local listings and plan accordingly!
If you're traveling home from wherever your Thanksgiving festivities took you, we've got you covered. If you're in an area where you have WiFi or a data connection and have a smart phone, the Tune In Radio app will stream you the dulcet tones of John Morris and J.J. Joe. But if you like to listen to your radio broadcasts the old fashioned way, we've got you covered once again. Here's the full list of radio affiliates:
| | | |
| --- | --- | --- |
| | | FOOTBALL RADIO AFFILIATES VS. Texas Tech |
If you're not going to game, but really want to get together with your fellow Bears to watch this game, we've got the watch party list right here! As always, if there are other watch parties not on this list, let us know in the comments so that we can get the word out. Here's the list:
| | | |
| --- | --- | --- |
| | | BAYLOR NETWORK WATCH PARTIES VS. Texas Tech |
Sic 'em. Since the game is at Jerry World, chances are that even if you're going to the game, you're still watching this game on a television. Let's poll.