Once again, our friends over at BaylorBears.com have compiled a handy-dandy Media Center article with radio and TV listings, as well as information about watch parties across Baylor Nation.  I highly recommend you taking a look at it.
For those watching on television, I have great and somewhat bad news.  The great news is that our game will be broadcast on ABC starting at 2:30.  Almost everybody in the country, I assume, has ABC.  The bad news is that if you live east of the Mississippi River and not in West Virginia, your ABC will show Wake Forest vs. Florida State, instead, and we don't have the ESPN2 mirror going for us this week.  If you live in those areas, WatchESPN and GamePlan are your only options.  I'm sorry.  The full coverage map is below: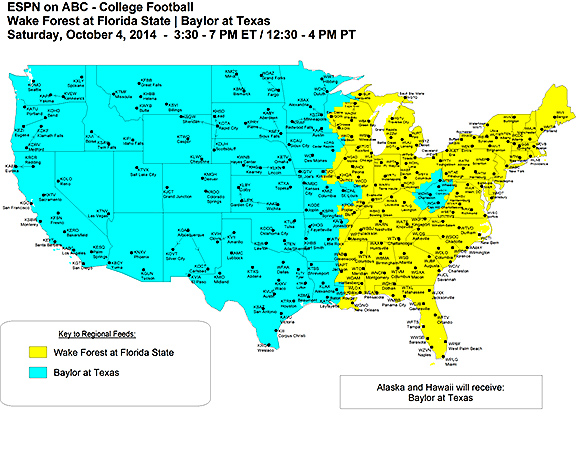 I'm apologizing for that even though there's nothing I can do about it and it's not my fault, because I'm a married man, you see.
Now for the radio options:
| | |
| --- | --- |
| | FOOTBALL RADIO AFFILIATES VS. UT |
It looks like most of the Watch Parties are taking place in the normal locales, but since I haven't attended any of them, I may be wrong about what constitutes a "normal locale."  Take a look at the list and let me know if there are any major changes in your area.  Also, if you know of an unsanctioned Watch Party (you devious rule-breaker, you) occurring in your area, let people here know about it.  We won't tell the fuzz; I promise.