Before we get into it, I want to point out that this Depth Chart includes players who didn't participate for whatever reason in the 2014 spring practices.  That means it has Bryce Hager, Spencer Drango, Samuel Ukwuachu, etc. etc.  Let's jump right into it.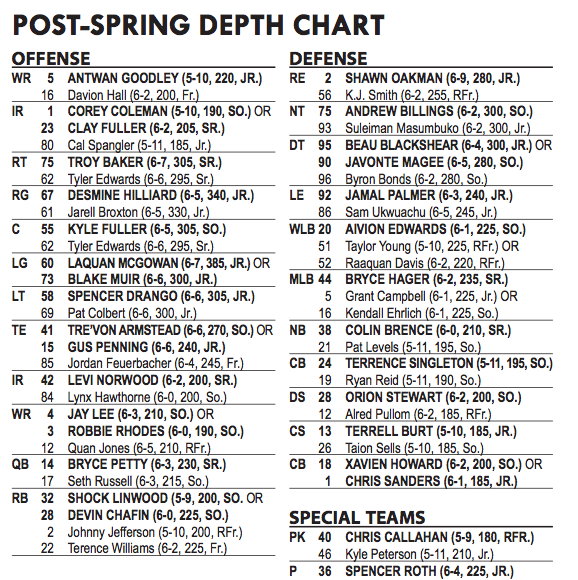 I'm actually pretty proud, looking back now at the Way Too Early Depth Charts I did the first week of January, that we were mostly right in what we suspected might happen.  The Depth Chart above shows exactly what we thought we might have: a heavily junior-laden team sprinkled with senior starters (8 either starting or in an OR situation) and a ton of returning talent.
A few things stand out to me that I'm curious about going forward, and I'll just list them in bullet point form:
Antwan Goodley is a senior, so that's a typo. So is

Spencer Roth

.
Can't express how happy I am to see Javonte Magee back (and starting!) after we wondered for months whether he'd ever set foot in Waco again.  Credit to the coaches for being there for him when he was ready to return.
I truly believe a Drango-McGowan-Fuller-Hilliard-Baker OL will be the best in the Big 12 in 2014.  Both tackles will be starting for the third consecutive year, Hilliard his second, and Fuller played quite a bit last year in a reserve role.  The big question is

LaQuan McGowan

, but he's a big everything.

I love the receiving corps of

Antwan Goodley

,

Robbie Rhodes

,

Jay Lee

, Davion Hall, and

Quan Jones

on the outside with

Corey Coleman

,

Levi Norwood

, and

Clay Fuller

on the inside.  There's quite a bit of diversity there in terms of skillsets, as well as obvious returning production.
No Kiante' Griffin to be found, and former walk-on

Collin Brence

is the starter at NB.  Raise your hand if you saw that one coming.


Aiavion Edwards

moving outside to OLB after playing all spring at MLB (and last season) is a bit of a question mark with Bryce Hager returning to MLB.  In fact, we have Grant Campbell and

Taylor Young

playing MLB when both practiced at OLB.  Maybe demonstrates that you can't take all that much from spring practice?

Terrence Singleton

at CB is a big surprise after seeing him excel at cover safety this spring.  I'll be honest-- I was hoping he would seize that job from

Terell Burt

and one of

Ryan Reid

or the JUCO pair of Tion Wright and

Chris Sanders

could step up at corner.  There's still time, obviously.

Best defensive line we've seen in a generation.  The combination of

Shawn Oakman

and

Jamal Palmer

is strong at the DE spot with

Javonte Magee

and

Beau Blackshear

playing opposite

Andrew Billings

inside.  I told you guys it was a matter of time until Billings played the NT and moved everyone else out. 

Byron Bonds

, a starter at the end of last season, as additional depth is quite good.

All in all, there's more than a few question marks here with new starters.  Counting them all up is a bit wonky since it's difficult to define what a "new starter" is or how many positions you have (particularly with several ORs), but I'm going to say we have 7 on defense and 4 on offense (counting each spot at one position regardless of the ORs).  I guarantee you will see people use that as a negative against this team and its potential, so get ready.

I count 9 seniors on the entire 2-deep out of 56 players. 8 (5 offense, 2 defense, 1 special teams) are listed as starters.