After a slow first half for the offense, the Bears retired the longhorns and took their first Big 12 Championship. Here's how Baylor Nation's (and others) reactions went down ... in .GIFs!
Reading the weather report early in the week.
Arriving at Floyd Casey Stadium
OSU fans after their lackluster performance against the sooners.
Once inside the stadium.
Seeing those old school helmets.
When they played "Started from the bottom" right before kick off.
How our defensive line came out onto the field every possession.
Aaron Jones gives us a three point lead.
Then he misses a field goal ...
When someone asked you if you were nervous or if you were just cold in the second quarter.
Clay Fuller just before a big 3rd down
Coming out of the tunnel for the second half
Ahmad Dixon when he came in the game after halftime
When they played Jump Around - even if you were at home.
The Texas fans who tried to participate.
Antwan Goodley with the one handed grab for our first touchdown!
Bryce Petty to LEVI NORWOOD!
That Case McCoy freak touchdown pass
Case McCoy after said play.
KJ Morton's Interception.
Watching Case get pulverized on the run back by KJ Morton
Wait, they called that back???
Glasco Martin seals it off on the next play anyway.
When Bryce Petty took a knee and looked at Art Briles on the sideline.
How you imagined them turning off the lights inside the stadium with everyone still in it would go
Every Baylor student trying to focus on studying for finals right now.
The rest of the Big 12 ... and us.
Anyone who says, "Well you're only playing UCF so it's really not that good."
Nick Saban right now.
Smart Texas fans to the rest of the fanbase.
When you got to your computer on Monday and the GIF post wasn't out yet.
Tuesday ...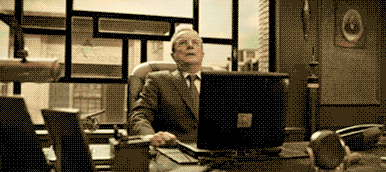 Me, seeing your disdain ...
And when you saw it today ...
Pretty much anything tangible from this season.
Watching this team this year.
Fans contemplating purchasing Fiesta Bowl tickets ...
That will do it for this year's regular season .GIF posts! Thanks to everyone for reading this every week, it has been fun. Please post your reactions to anything from this season below in the comments!