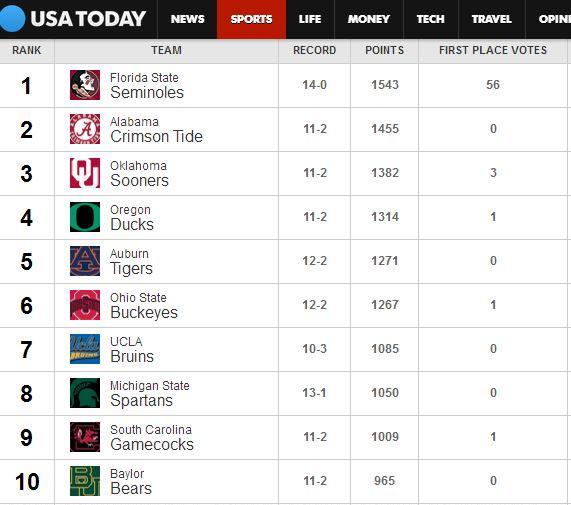 The first Coaches Poll of 2014 is out, and not only are your Baylor Bears on it, they are in the  Top 10.  I don't know if that has ever happened before, but I'm sure someone in the comments will tell me.
Not much to quarrel about with this poll, if I'm being honest.  Florida State is the reigning champion and has a cakewalk of a schedule to the inaugural college football playoff compared to others on the list.  They are favored by two touchdowns or more in every game this season (at this point), and any loss on their part would be a tremendous upset.  Plus, they're really good.
Alabama is a bit of a surprise if only because I'm not sure their QB situation is entirely settled, but you can't argue their results.  They are favored to win the SEC West, and probably rightfully so.  Oklahoma is still riding the momentum of their Sugar Bowl win over the Crimson Tide, and I think everyone expected them to be about in this spot.  None of the rest truly bother me as Oregon, Auburn, Ohio State, UCLA, and Michigan State all have established QBs, the single most important thing a CFB team can have.  South Carolina doesn't, but they should be quite good on defense this season and are in an SEC East that seems ripe for the taking.
Baylor being included here is big news for a number of reasons I think we've covered before numerous times.  Instead of starting outside the Top 25 and having to justify your insertion in it each and every week, we're starting in the Top 10.  Each win means a little more when compared against the other teams around us.  The spotlight is a little bigger for our individual players.  We'll be featured on the ESPN scrawl at the bottom for all of our games (provided we don't tumble out, of course), something that seems small but really probably isn't.
As for the conference, four Big 12 teams are represented on the first poll, including Baylor.  Oklahoma is obviously #3, as you can see above, and Baylor #10.  Following those two are Kansas State at #21 and Texas, somehow, at #24.  This only affirms my belief that Texas will be voted into the first Coaches Poll every single year until Armageddon.
But even so, they're 14 spots behind your top-ten Baylor Bears, everyone.  It's a new day.