Everybody. Rock your body. Everybody. Rock your body right. Backstreet's back alright!
Helloooooooooooooooooooooooooo Baylor Nation. Did you miss me? I know I missed you. Ya boy has been hard at work here in the early part of the semester with a fresh batch of 18 credit hours, Bearathon approaching, and much much more. I promise to never leave you like that again though. Let's not waste anymore time. Pump up the jams and let's get into the last week in Baylor campus happenings.
Jam of the Week
Lord.Hinton's Week
Monday: Ya boy is one of the Sponsorship Chairs for the Bearathon (shameless plug to follow, don't you worry) and I had to make call after call after call after call to Waco local business and it's frustrating but it's cool because Waco has been good to the Bearathon and it'll be a great event on March 19th. Hope to see some of the ODB fam out there.
Then the Grammys were on so I watched them. Very meh up until Tori Kelly (my future wife) performed with James Bay (who?). Then the Hamilton performance was ABSOLUTE FLAAAAAAAAAAMES. Then Kendrick Lamar had ACTUAL FLAAAAAAAAAAAAAMES. Adele had some mic issues but she's still great. Alabama Shakes gave an excellent performance. Lady Gaga's David Bowie tribute was amazing as well. Taylor Swift said things, whatever. Bye girl.
Tuesday: I didn't realize until after Taylor Swift pissed me off that I had a crap ton of homework to do for Tuesday. You ever have so much to do you take a risk and weight it based on importance and only do some of it? Well I did that, and it blew up in my face on Tuuesday. We living though.
Wednesday: I took my first midterm of the semester (on Canvas, it was weird) but I got an A on it and I was like: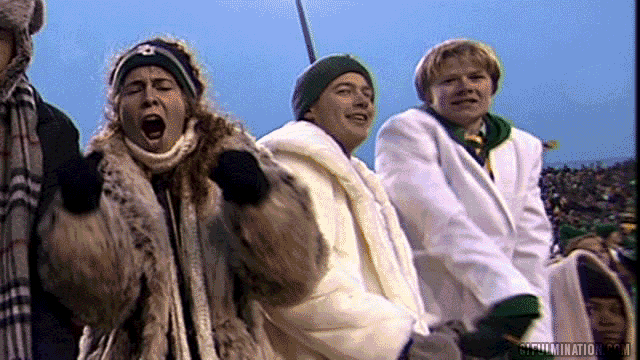 Thursday: Thursday was a blur because SING happened. One of my roommates is the President of Sing Alliance so it's been eagerly anticipated in our apartment for months and months. The show was AMAZING and if you're going this year you have a lot to look forward to. There was not a single boring performance, and they'll only improve from here since I went on the first night and it wasn't judged.
SPOILER ALERT:
I'm going to review the acts and reveal themes. You've been warned. Also let me re-emphasize, I loved all the acts.
Chamber opened the show with a small introduction act that was pretty good.
Chi O: "Lunch Lady Land". A look into the lives of middle school cafeteria lunch ladies. Had a lot of energy, really good costumes, solid choreo, good song choices, and a few humorous moments. It was dope. 8/10
KXA and BYX: "Wonderful World" A dark social commentary on suburban life. Featured some pop punk throwbacks that were performed really well. 7.5/10
AXO: "The Alpha Chi Coal Mining Company" One of the darker performances of the night, Chi O had a great set, excellent use of lights and effects, shocking twist, and good music. 8/10
KOT: "Setting Sail" KOT came out looking to reclaim the SING title and they may have. Pirates is hard to pull off because it's been done so often but they did. Their choreo was great, they had excellent singers, they told a story, they had a great set, it was brilliant. 10/10.
Sing Alliance: "Two Tickets Please" Sing Alliance's act was full of energy and fun as always. Plus my roommate had a solo and he CRUSHED IT, I'm too biased to give you a score worth anything so I'll leave it be.
Delt: "Lost in the Jungle" They did Tarzan and it was hilarious. A few songs from the soundtrack were real standouts. Choreo could've been better but hey whatever. 6/10
Beta: "Derailed" I think they were hobos on trains? I'm not entirely sure. The train they had on the stage was dope looking though. 6/10.
Theta and Sigma Chi: "Sincerely Yours, ThetaSig" A Breakfast Club themed act, apparently this was Sigma Chi's first act since being let out of detention. It was really good. I loved their songs, the costumes were on point, the choreo was good. There wasn't really a story but there isn't one in the movie either. 8/10.
Pi Kapp: "The Lost City" A Pompeii act, Pi Kapp may be the most improved act of the year. They had a great set, good singers, good choreo, and AMAZING stage effects. 7.5/10.
Kappa and Kappa Sig: "Come Dance with Me" I think a butler fell in love with a guest at a fancy hotel and the rest of the staff got to go to a fancy ball at the hotel? Maybe. Either way they had excellent choreo and good songs. 8.5/10
Tri Del: "Can You Dig It?" Holes-themed (yeah we like movies, so what?) it went through the story of that movie as accurately as possible in 7 minutes. Tri Del's choreo is always on point and this did not change this year. 9/10
Phi Chi: "Workin'on a Building" If it ain't broke, don't fix it. Phi Chi didn't stray much from their first place act from last year and it was still really good. Had I not seen last year's Dust Bowl it could've been top 3 on the night but alas, 9/10.
Zeta: "We Have Awoken" Hunger Games? Divergent? I dunno. It was dope though. There was a haunting rendition of Sia's Chandelier that was SOOOOOOOOO GOOD, probably my favorite song of the night. The story didn't really develop but they had dope costumes. choreo, and singers. 8.5/10
ATO: "The King of Promise" King Arthur maybe? Sure why not. But they were really good. They had an amazing prop that I won't spoil for you, excellent song choice, most memorable dance move of the night, it was great. 9.5/10 Would've been a 10 but I think there were some technical issues in the opening song that threw me off. I think they'll have it together tonight though.
ADPi: "Keep on Survivin" They did Jumanji, I didn't really get the costumes but their set was cool, they did a mashup of I Will Survive and Survivor by Destiny's Child that was really good. 7.5/10.
FIJI: "The Dancing Dead" They were zombies, they did Thriller, I don't have much else to say. 6/10.
Pi Phi: "Meet Me in Ze Alps" They were goat herders. I know it sounds stupid, and I thought it would be. But hot damn they were dope. It was hilarious, they sounded great, they looked great, their choreo may have been the best of the night, I may have cried, it's fine. 10/10.
(Don't hate me for my ratings, I loved them all, shoutout to all my friends who performed, you're perfect and I love you.)
Friday: Strolled through Foster writing shameless plugs for Bearathon on white boards, I actually have to run off to a MEGA MIXER for Student Foundation, Chamber, and Student Government. We're eating at the BANC (athlete dining hall), Art Briles may be there. It should be dope.
There you have it folks. Another week on Baylor's beautiful campus in the books! Hope you enjoyed it. As always leave any questions in the comments so I can answer em next week!
May the afar flung green and gold guide and protect us as we onward go down this Good Ole Baylor Line. See ya next week guys!