The offseason struggle is so real.
Guys, it's been 6 months and change since the last time we saw a Baylor Football game. I'm going through withdrawals. And since I have a little free time now, I'm taking a look back at the 14 best moments from the 2014-15 home games, the first in Baylor's mega-awesome McLane Stadium. I was in the house (that RG3 built) to witness every single one of these moments so I'll be adding in some personal reflections too. Let's go ahead and get into it.
COMING IN AT NUMBER 14 ON THE COUNTDOWN,
14) The first touchdown
The first touchdown ever scored at McLane stadium was a fairly ordinary one by Baylor offense standards. It was a quick 4 yard run by running back Shock Linwood set up by an SMU fumble. But the sellout crowd knew it was only the first of many touchdowns to come. None of which would be had by SMU.
13) Andrew Billings chasing down a KU player on Homecoming
That just ain't right. Being that big, strong, and fast. #BaylorSpeed is real y'all. Most of the crowd didn't know how to handle this moment. Be excited that Billings made such a ridiculous play, or be appalled that Baylor gave up such a big gain? Be excited. Billings is a special athlete and you all got to witness it.
12) Collin Brence's Interception against OSU
Unfortunately I cannot find video of just the interception so you'll have to bear with me and skip to the 1:12 mark of the video below to see it.
Anyway, on a cold and rainy BLACKOUT night in a revenge game against Oklahoma State, former walk-on Collin Brence made one of the best plays of his career and one of the best of the 2014 season for the Bears. No one, including OSU's quarterback, saw it coming and the place went WILD. Couldn't be happier for Collin.
11) Shawn Oakman's Existence
You: Shawn Oakman isn't a McLane moment
Oakman: Yeah I am.
You: You right fam.
10) Antwan Goodley's 4th Quarter Touchdown vs TCU
As bad as it looked for Baylor in the 4th against TCU, anyone who pays attention knew that if there was a team who could score 21 points in 12 minutes it was Baylor, and Goodley's utterly ridiculous touchdown catch to cut the deficit to 58-51 let everyone - at least everyone in the student section - know WE WERE GOING TO WIN. The rest is history.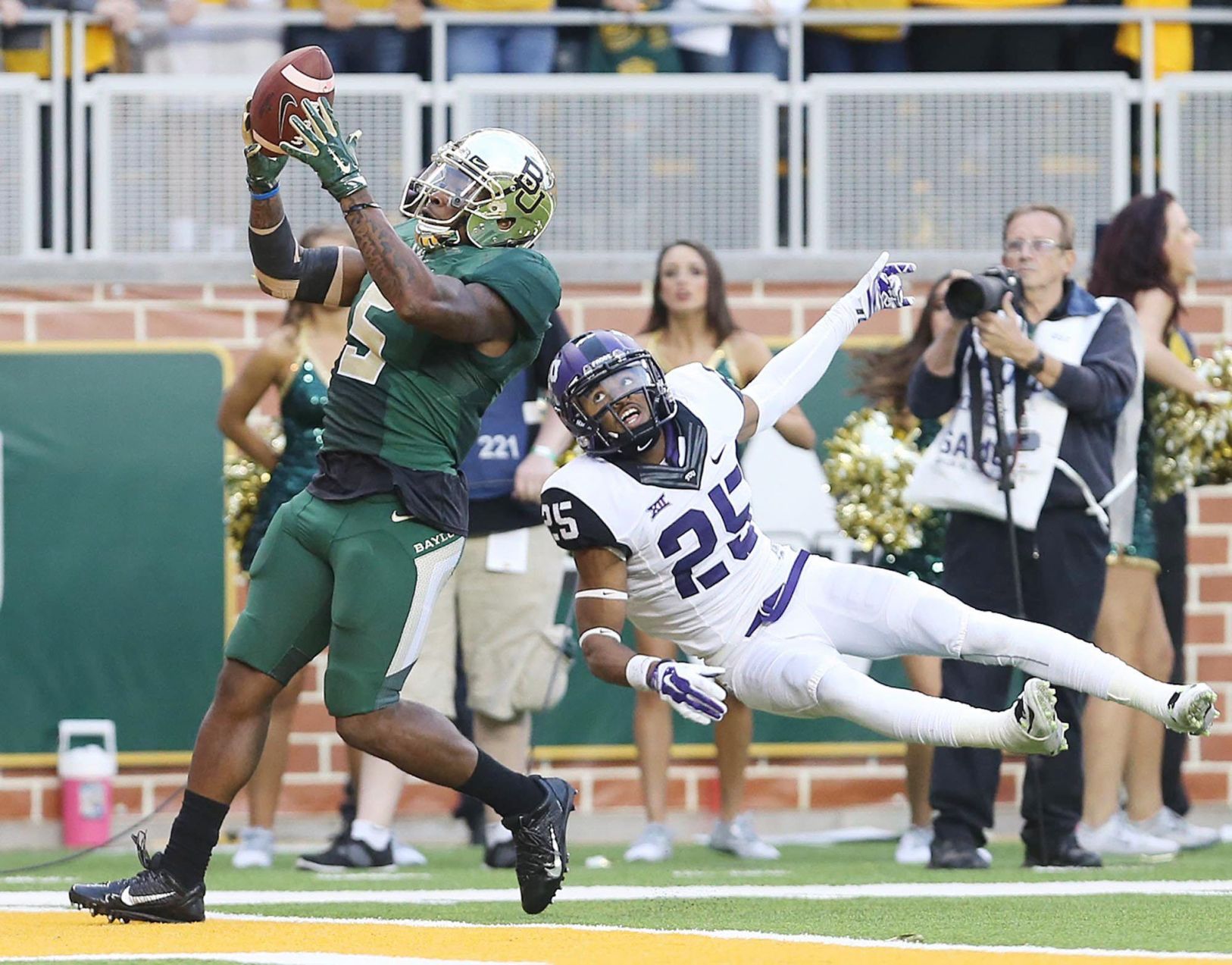 Please take note of Kevin White's face
9) Jay Lee's Touchdown against OSU
Revisiting the cold and rainy BLACKOUT game against OSU, Jay Lee's 65 yard touchdown catch less than a minute into the game set the tone for the bloodletting that was the revenge that Baylor so desperately sought against an OSU team that handed them their only regular season loss of the previous year. Oh man were we hyped.
8) RG3's opening prayer over the stadium.
"And once again, we say WOW!" Another moment from the inaugural game. RG3 brought down the house with his goofy antics and his powerful prayer during the pregame following the unveiling of his statue out front. It was great to hear from one of the former leaders of our nation. Oh and GeorgeBush was in the house too.
7) College Gameday Comes to Waco
For the first time in school history College Gameday, the ESPN Saturday morning show, made a stop in Waco for Baylor's last regular season game against Kansas State. Turnout was great from students and alumni alike. Also if anyone ever forgets that we beat TCU it's not because we didn't tell them. Also the UAB chants from the crowd as ESPN aired a segment on the shutting down of that program was heartwarming for all. Glad to see UAB football is back.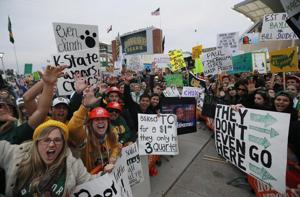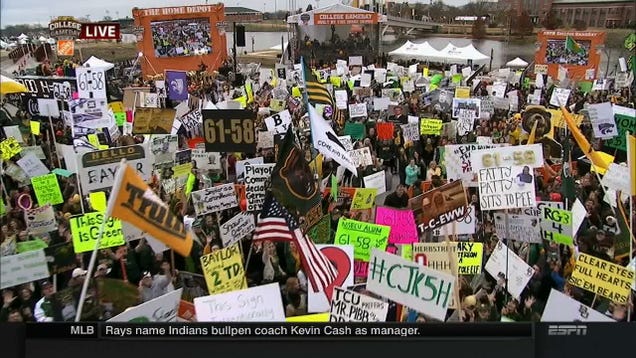 6) Bryce Petty is just #ReadyForOU
Following a homecoming drubbing of the Kansas Jayhawks, Bryce Petty was focused on one thing and one thing only. Beating the Oklahoma Sooners the next week. One of the most memorable Baylor press conferences in recent memory lands at number 6 on the list.
5) KD Cannon
Kd Cannon's arrival to Baylor and his ridiculous on field stats and highlights are a big deal. So big I couldn't pick just one. As a true freshman, KD repeatedly flashed the skills that could potentially make him the best wide receiver to ever come out of WRU. Here's some KD Cannon highlights. Play on playa.
4) The Intro Video
Baylor's new intro video to show off the history of the team and contextualize the meteoric rise that led to the opening of the new stadium moved many to tears. You're damn right we're coming home.
3) The First Baylor Line
The Baylor Line is one of my favorite traditions. The season opener against SMU was my first time ever seeing it without running it since it was my sophomore year and it might be just as great to see as it is to be a part of. Also, they added MOTHER FREAKING FIRE. THE TEAM RAN THROUGH A FREAKING RING OF FIRE. I had a great seat for it too, next to the homie KimboSmash right above the tunnel. Check my instagram photo below.
2) Winning the Big 12 Championship (AGAIN)
Bob Bowlsby get outta here. Baylor is the reigning, two-time defending, undisputed, one true football champion of the Big 12 to anyone who has a brain. Chants of "ONE TRUE CHAMP" rang out all over a field filled with students celebrating the second big 12 championship. We closed the Case with a 'ship, and we opened McLane with one. It's only right, right?
1) 61-58
Expect anything different? The most ridiculous football game I have EVER seen. From the opening kick it was obvious both teams came to play and points would be had. Damn the narrative, TCU didn't dominate that game for 3 quarters. It was a bac and forth battle the whole way. After a Bryce Petty pick 6 made the score 58-37 TCU, Baylor's dj played the song "Ain't Worried Bout Nothing" by French Montana, the world-famous "We are going to win" sign flashed on the videoboard and you know what happened next. Credit to the TCU fans in attendance for being loud and proud and pissing us off the entire game. But oh man did it feel good to watch them all sit in stunned silence as Chris Callihan's game winning field goal went through the uprights. Damn your "y'all were the higher ranked team" nonsense. I'd storm that field in the same situation 100 times out of 100 because THAT was ridiculous in every way possible.
Let it be known, if you come to our house,
Thanks for reading guys. Put down in the comments any of your favorite McLane memories that you think I missed.
LordHinton out.