Let's start out this preview by acknowledging a bitter truth: the worst thing about college basketball is that it starts in the middle of college football season. Otherwise? It's the absolute best. Sure, sometimes you are watching a bunch of kids' rocket passes into the upper bowl of the arena and bricking layup after layup, but no matter what happens, you can say to yourself, "Man, these guys CARE." That's what college basketball is all about. Even when it makes you want to take a super magnet to your television so you can never suffer again, you say to yourself, "Man, these guys CARE."
So, with caring at the forefront of our minds, let's take a look at the 2014-15 Baylor Bears roster. It's a team full of misfits, oddballs, lunatics, and no one taller than 6' 9". And you know what? I am going to love this team. I just know it. Please, allow me to show you why. We'll start with the small guys and move on up to the less short guys.
Guard
Baylor returns only one known commodity at the guard position. Things could get wild and woolly in the backcourt this season (If I had to explain why I linked to that video, it would be because it depicts an amalgam of forms behaving erratically, and it begins and ends with a shot of a cherry, which is exactly what this Baylor team is.).
Kenny "The Wolverine" Chery
Why do I call him the Wolverine? Well, I'll just let Kenny explain. When asked who his favorite superhero is, he had this to say (jump to about 3:20, or watch the whole thing, because you cannot have too much Ish in your life):
I have a couple of takeaways I'd like to share. 1.) No one on earth has never taken that question more seriously. When asked to share his favorite fictional cartoon superhero, Chery delves deeply into his own soul to unearth some primal truth about himself. 2.) Ish Wainwright is doing everything in his power not to bust out laughing. That's how you know Chery is like this all the time. He's a baller to his core with an adamantium skeleton and superhuman regenerative abilities.
When he's not growing mutton chops and smoking cigars? Chery is getting buckets, as shown below.
You would be hard pressed to find a better midrange shooter in college basketball. Chery is an expert in the pick and roll, a necessity for a Scott Drew point guard. If he's given even a sliver of room, he has both the confidence and ability to drain a shot over the outstretched arm of a closing defender. Conversely, if the defense closes in on him, he has enough awareness to pass off to his teammate cutting down the lane or to the next perimeter player to take advantage of the off-balance defense. Chery had a 2.3 assist-to-turnover ratio as the primary ball handler last season, a testament to his savvy and cool-headed demeanor. You couldn't ask for a better player to lead this team of X-Men.
Lester "Quick Silver" Medford
15.2 PPG, 6.1 assists, and 2.7 steals on 46% FG, 40% 3pt, and 73% FT (h/t Bears Truth for the stats)
Last season Baylor Nation looked to Kenny Chery to fill the void left by Pierre Jackson, even if they had different games. This season, the Bears have a guard in the mold of Jackson. Medford, by all accounts, is a high speed, diminutive point guard. Ask him his plan of attack, and he will tell you, "I have a plan: attack." Whether he is on offense or defense, Medford brings relentless energy and should be a perfect first guard off the bench both to spell Chery and to play alongside him. I expect he will quickly become a fan favorite.
JUCO import Lester Medford is a BLUR for Baylor. Lightning quick in open floor. Pesky defender. Will see plenty of time with Kenny Chery.

— Jon Rothstein (@JonRothstein) November 3, 2014
Al "Ice Man" Freeman
Here is all I know about Freeman:
Injuries forced Freeman to redshirt his freshman year. This season, he projects as a likely back court starter alongside Chery. With a year to refine his game, he should be able to transform the above highlight reel into play-to-play consistency. He's a fierce competitor with a quick crossover that can freeze a defender. Combine those attributes with a serviceable jump shot and a prototypical college shooting guard build (6' 3", 200 lbs), and he could be a major contributor for Scott Drew.
Amazing the lack of attention surrounding BU's Allerik Freeman. Top 100 kid out of HS. Missed last season due to injury. Gets buckets.

— Jon Rothstein (@JonRothstein) November 3, 2014
Dee "Cyclops" Durham
When he steps onto the hardwood, Durham has one thing in mind: buckets. He enjoys long range buckets, slicing down the lane buckets, running in transition buckets, skying through the air and dunking in your face buckets, and those little plastic buckets you use to build sand castles, but everyone loves those buckets. At 6' 4", 175 lbs, he is well equipped to attack the defense in a myriad of ways. Early reports out of practice have suggested he might be the team's go-to three point shooter already, which should both terrify and excite Bears fans. He comes with a reputation as a volume shooter (anyone remember LaceDarius Dunn?) who can make shots off the dribble and catching the ball. It may take him a while to adjust to competing against more athletic players (he played against relatively low-level competition in high school), but he should grow into a primary scoring option with a little ripening. Until then, expect him to keep a laser focus on the rim wherever he catches the ball.
Mills is a walk-on transfer from Pepperdine. Full stop. Consider what that means. Really think about it. He made the decision to leave Malibu, CA for Waco, TX, for what I presume is a small chance of significant minutes on the floor (he averaged only 9.8 minutes per game for the Waves in his sophomore year). Maybe he really loves football and BBQ. Maybe he wanted to live in a state whose capitol shares his name. Hard to say. Welcome to the Great State of Texas, Austin.
Wing
Baylor fans should prepare themselves for some #WeirdBasketball this season, and it will all start on the wing, where Scott Drew has all sorts of unconventional and intriguing players at his disposal.
Ish "Nightcrawler" Wainwright
Think that stat line is a bit unsettling? Well, get a load of this shot chart!
Let's just act like last season never happened. Wainwright had a tough time adjusting to the college game, saw his minutes steadily decrease, and never quite found his footing. But you know what? I don't care. It's all aboard the Ish Wainwright Bandwagon, and I am your irresponsible driver. There are no scheduled stops (unless, you know, we happen to drive over a cliff).
Let's look at the facts, though. Wainwright is 6' 5", 245 lbs with a 7' 1" wingspan. He has a knack for passing along with the length and bulk to guard multiple positions. He's had another offseason to work on his jumper, and he will never lose his arresting charm. I mean, seriously, you watched that whole video, right? How could you not love that guy? I have faith that he can put it together this season and be a solid contributor of the bench for this team. He might flit in and out of games occasionally, but bit by bit, he'll find some consistency.
Will be versatile reserve. Can play different positions @jjosh_nichols @JonRothstein what about ish wainright?

— Jon Rothstein (@JonRothstein) November 4, 2014
Royce "The Hulk" O'Neale
Unfortunately, Nylon Calculus still has a bug that prevents it from retrieving shot charts for players with apostrophes in their name. As if that wasn't enough, I can't get his Sports Reference box score to embed. He remains an enigma.
O'Neale will likely be the second most important player for Baylor this season. He is the most reliable perimeter defender, can hit the open three at an absurd and likely unsustainable rate (he shot 1.6 threes per game last season at 46.8%; that's a slightly higher rate than Heslip in about 1/4 of the attempts), and grabs offensive rebounds. He was among the most efficient and versatile players in the country last season, ranking 278th in offensive rating, 94th and 205th in effective field goal% and true shooting%, respectively, 453rd and 438th in offensive rebounding percentage and assist rate, respectively, and 274th in free throw rate, per kenpom.com. Those numbers are reasonably comparable to Chandler Parsons' 2010 season, also per kenpom. We'll get into what some of those numbers mean as the season progresses, but the thrust of the matter is this: Royce O'Neale does everything he can to win games. An increased role could hurt some of his efficiency numbers, but he should still be one of the most reliable and useful players in the country.
It depends on Baylor's team success, but Royce O'Neale could emerge as one of nation's best Glue Guys. Rebounds. Defends. Underrated passer.

— Jon Rothstein (@JonRothstein) November 3, 2014
Taurean "Havok" Prince
Wainwright aside, Prince is my favorite player on this team. I am just mesmerized by him. Every time he touches the ball, he does something that makes me ask, "Why did he do that?" and I never have an answer. Ever. It's incredible. I mean, just look at his shot chart from last season.
When Prince gets the ball, he wants to score. He doesn't care if he's under the basket, 10 feet away, 18 feet away, or 94 feet away. Prince rarely seems to have an actual plan for how to score, but gosh darn it if he doesn't put a lot of effort into everything he does. Of all the shot charts for returning players, Prince's is far and away the most dispersed. No one took more shots from more places than he did. What I find most intriguing about his shot chart, though, is his efficiency at the rim. 38% of his shots were point blank, and he made a team high 69% of those, just a skosh above Cory Jefferson's 68%. I remember hearing a couple of years ago that Prince played a lot of power forward in high school, and it might be his role on this team to be the inside scoring threat. If he can rein himself in on offense and be something other than a turnstile on defense, Prince could have a huge impact on this team.
John "Professor X" Herd
Herd was a walk-on last season after serving as student manager the season prior. He made the Big 12 Commissioner's Honor Roll, earned the loudest cheers of any player off the bench when he stepped onto the Ferrell Center floor, and will likely persist in that role. He's a behind-the-scenes guy, but when he steps into the lights, there's nobody more eager to put on a show.
Forward
You might notice I have eschewed listing players according to conventional positions. The reason is that Baylor has a lot of guys who can do several different things sort of well, and very few players who just do one thing really well. Our best three point shooter might not be a guard, our third point guard might be 6' 5", and our inside scoring threat might be a wing player. Drew could roll out a lineup of Wainwright, O'Neale, Prince, Deng Deng, and Rico Gathers, whose average height would be 6' 7", have a range of 6' 5" to 6' 8", and everyone would roughly be playing either their "designated" traditional position or no position at all. Drew could also put out a lineup of Chery, Medford, Freeman, O'Neale, Prince, and Deng, whose average height would be 6' 3", have a range from 5' 10" to 6' 8", and everyone would roughly play either their "designated" traditional position or no position at all. The crazy part is, neither of those lineups even sounds totally implausible to me. That's what I mean by #WeirdBasketball. Baylor could be an almost position-less team this year with some guards, a lot of wings, a handful of forwards, and no traditional center.
Rico "Beast" Gathers
Gathers is the incumbent fan favorite on this team and its only kinda-sorta true center, and that's almost entirely because of his skill set and not his size. He stands at 6' 8", only an inch taller than Prince, who projects as a small forward. Unlike Prince, however, Gathers will be lucky to take more than a dozen shots outside the paint this season, as last season's shot chart indicates.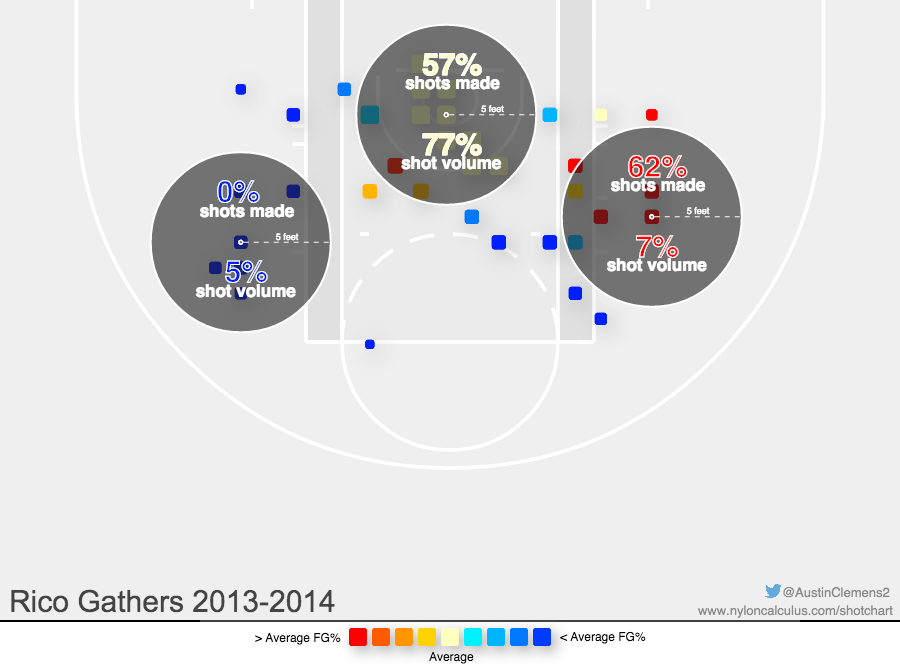 Gathers has one elite skill: rebounding. Last season, Gathers was the 4th most effective offensive rebounder in the country, per kenpom, and the most effective among players in a major conference. He knows how to battle for position and is strong enough to push out taller, lankier centers. Most of his shot attempts came from offensive rebounds, and he finished at the rim much more effectively than I would have guessed. If he can just get his free throw percentage somewhere around 70%, and if he can stay out of foul trouble while playing maybe twice as many minutes as last season, Gathers could be a double-digit scorer almost by accident. All hail the power of the Beast.
Rico Gathers reminds me of former Pitt big man Chevon Troutman. 6-7, burly, tough, and downright nasty. Breakout year ahead in 14-15.

— Jon Rothstein (@JonRothstein) November 3, 2014
Deng "Twice is Nice" Deng
Sorry, I've run out of X-Men/Marvel nicknames. Like the guards, the forward group consists of one player I know very well and a handful of players I don't know at all. Baylor will trot out a lot of inexperienced players this season, the reverse of last year.
Deng should provide some modicum of stability. He has two years of junior college ball under his belt, averaging 20 points, 11 rebounds, 3.5 assists, 2 blocks, and 2 steals per game his sophomore campaign. He has some spring in his step, a decent jump shot, and might be second on the team in blocks when all is said and done. He has some health issues, and even eligibility questions, so his court time could limit his impact this season. If he can get on the court, though, he will be Drew's most versatile forward.
Johnathan "High Motor" Motley
Motley is this offseason's All-Practice MVP. People are raving about this kid's motor, rebounding, shot blocking ability, and back-to-the-basket game.
Palpable buzz out of Waco surrounding Baylor red shirt freshman Johnathan Motley. Long and active. Should average close to a double-double.

— Jon Rothstein (@JonRothstein) November 3, 2014
If Baylor needs anyone to have a breakout year, it's Motley. He's the closest thing the Bears have to a true center, standing at 6' 9" and weighing 230 lbs. He redshirted his freshman year, battling Jefferson, Gathers, and Isaiah Austin in practice. Reports are he is a slightly less athletic but slightly more skilled Jefferson, which is an exciting prospect. If the hype turns out to be true, Motley could be the missing piece to anchor the paint on defense, something no one else on this team is really equipped to do. His ability to provide help defense and shot blocking from the weak side will be paramount if the Bears hope to be a team competing for a top 5 spot in the conference.
Early prediction on Baylor starting five --- Kenny Chery, Royce O'Neale, Taurean Prince, Rico Gathers, Johnathan Motley....

— Jon Rothstein (@JonRothstein) November 3, 2014
T. J. "Quick Learner" Maston
A true freshman, Maston was a 3-star recruit who has some low-key buzz as a possible contributor off the bench. I'm not sure I buy it. College basketball teams generally whittle their rotation to 7-8 players as the season nears February and March, and I see very little potential for Maston to pass up Motley, Gathers, and Deng for forward minutes. We might even see Prince spend some minutes at the power forward position. He has a reputation as a cerebral post player, but at 6' 7", 220 lbs with little indication of a refined skill, it would be better, I think, for Maston to take a redshirt year, work on his strength and skills, and come in next season ready to contribute.
This roster is undoubtedly Scott Drew's strangest. I cannot even begin to tally the number of lineup combinations at his disposal. The only constant among any of the millions of possible 5-man units is that they will have to play up-tempo to be effective. This team has plenty of athleticism, and the best way to counteract their lack of height is to run the floor and play in transition, something the Bears avoided last season.
That's it for the 2014-15 Baylor MBB position preview. Stay tuned for a prediction post later in the week attempting (in vain) to project record, stat leaders, rotations, Big 12 standings, and NCAA chances.
Have your own thoughts about Baylor's roster this season? Please, share in the comments!