OPPONENT: Texas Longhorns
ODB GAME HUB: Baylor Bears vs. Texas Longhorns 2014
ODB PREVIEW/PREDICTION THREAD: Baylor vs. Texas
ADVANCED STATS PREVIEW: Baylor vs. Texas
ROLL CALL: Baylor vs. Texas
FIRST LOOK: Baylor vs. Texas
ODB PREDICTS: Baylor vs. Texas
MEET THE PRESS: Baylor vs. Texas
SPREAD: Baylor -15 (Open: Baylor -12.5)
TV COVERAGE: ABC
WEATHER FORECAST: High today of 81F
BAYLOR UNIFORMS: Road Traditional
Pre-Game Notes:
Texas has officially announced that WR/RB Daje Johnson WILL PLAY today, while OT Desmond Harrison will not. Honestly, the latter would probably have a bigger impact on this game than the former.
There's probably 50 recruits in the house for Texas today. Let's hope our Bears give them quite the show.

The game is on ABC. Here's the coverage map again: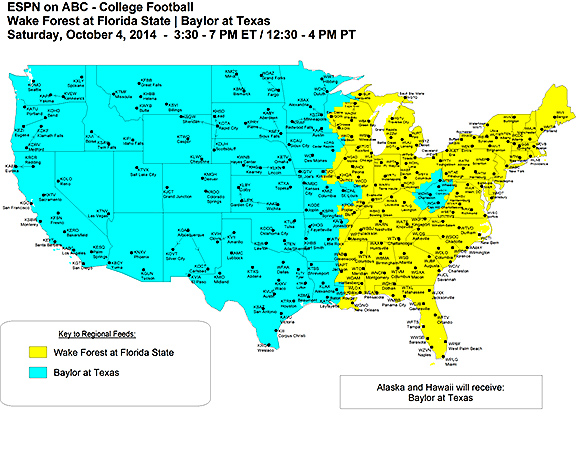 No more talking. Let's just kick some Longhorn butt. Sic 'em.